Non Shrink PFA Tubing
Model: CYG-PFA(N)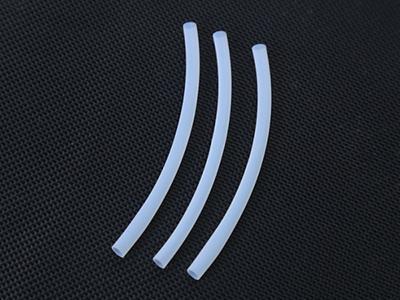 Material: PFA
Work temperature: -65°C-260°C
Aging resistance: No signs of aging even after long time exposure to ozone, sunlight.
High transparency: The flow of the medium in the tube can be clearly seen.
Corrosion resistance: Strong resistance to acid, strong oxidants, strong reducing agents and various organic solvents.
Applications
Non shrink PFA tubing (product ID: CYG-PFA (N)) features excellent high-temperature performance, chemical resistance, high insulation and outstanding mechanical properties. Designed to provide insulation and mechanical protection in severe chemical and thermal environments. The CYG-PFA (N) is often used when clarity, flexibility, and a higher continuous operating temperature range are required.
Size
FEP Insulation Tubing
Size
ID (mm)
Wall (mm)
AWG
MIN
NOR
MAX
30
0.25
0.30
0.38
0.23±0.05
28
0.33
0.38
0.46
0.23±0.05
26
0.41
0.46
0.53
0.23±0.05
24
0.51
0.56
0.66
0.3±0.05
22
0.66
0.71
0.81
0.3±0.05
20
0.81
0.86
0.97
0.41±0.08
19
0.91
0.96
1.07
0.41±0.08
18
1.01
1.07
1.17
0.41±0.08
17
1.14
1.19
1.32
0.41±0.08
16
1.29
1.34
1.47
0.41±0.08
15
1.45
1.50
1.65
0.41±0.08
14
1.62
1.68
1.83
0.41±0.08
13
1.83
1.93
2.05
0.41±0.08
12
2.05
2.16
2.31
0.41±0.08
11
2.31
2.41
2.57
0.41±0.08
10
2.59
2.69
2.84
0.41±0.08
9
2.90
3.00
3.15
0.51±0.1
8
3.28
3.38
3.53
0.51±0.1
7
3.65
3.76
3.94
0.51±0.1
6
4.11
4.22
4.41
0.51±0.1
5
4.62
4.72
4.95
0.51±0.1
4
5.18
5.28
5.53
0.51±0.1
3
5.81
5.94
6.20
0.51±0.1
2
6.55
6.68
6.93
0.51±0.1
1
7.34
7.47
7.75
0.51±0.1
0
8.26
8.38
8.69
0.51±0.1
Remarks: Special sizes are upon request
Specification
| | | |
| --- | --- | --- |
| Items | Test methods | Specification |
| Density | ASTM D 792 | 2.12-2.17 |
| Operation temperature℃ | | -65--260 |
| Dielectric Strength | ASTM D 2671 | ≥ 19.7 kV/mm |
| Water absorption % | ASTM D 570 | <0.01% |
| Tensile strength | ASTM D 638 | ≥13.8MPa |
| Elongation | ASTM D 638 | ≥200% |
| Volume resistivity | ASTM D 876 | ≥1017Ω.cm |
| Low temperature flexibility | -65±1℃ | No cracking |
| Flammability | UL224 | PASS |